Directory Of Year 1958, Issue 1
Ming Tombs Reservoir
Year:

1958

Issue

:1
Column:

ROUND THE WEEK
Author:
Release Date:

1958-03-04
Page:

4,5
Full Text:
In the same spirit - to make nature serve man - a huge reservoir is being constructed at the tombs of the Ming emperors, 30 kilometres north-west of Peking - a beauty spot attracting thousands of visitors each year.
Originally scheduled for the Third Five-Year Plan, this new reservoir went into construction on January 21, in the first year of the Second Five-Year Plan. The time-table was advanced because approximately 300,000 mou of farmland in the neighbourhood suffered from flood every year and the peasants, in their new mood and understanding, wanted to go ahead right now.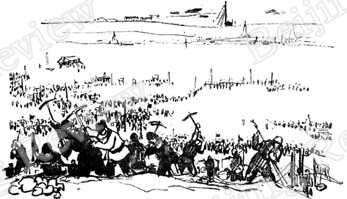 Building the Ming Tombs ReservoirSketch by Shao Yu
A call to build the reservoir ahead of schedule kindled public imagination. Thousands of men and women in the capital, factory workers, peasants, state functionaries, young students and army-men, volunteered to work on the construction site. Peking's top-flight opera singers and actors and actresses went out to the site to perform for the workers who devoted their Spring Festival holiday to the work. With so many volunteers on the job the treasury now estimates that it may now cost four million instead of the 20 million yuan originally earmarked for the project. The Kuanting Reservoir, the largest in north China at present, took almost three years to build. The Ming Tombs Reservoir, which will involve twice as much earthwork, will be completed in six months, by mid-June of this year, before the high water season sets in. This is 13 times the tempo of construction at the Kuanting Reservoir.
The principal part of the reservoir consists of a check dam 600 metres long, 30 metres high and 160 metres wide at the base, to be built at Tungshan Gorge. When completed it will hold 66 million tons of water behind the gorge, irrigate between 250,000 and 300,000 mou of farmland, bring in an additional yield of 40 to 50 million catties of grain, and provide fish-breeding facilities and electric power for the capital.