Directory Of Year 1958, Issue 1
Unique Bronzes
Year:

1958

Issue

:1
Column:

ARCHAEOLOGY
Author:
Release Date:

1958-03-04
Page:

16
Full Text: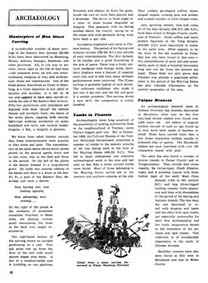 An archaeological research team in Anhwei Province has recently discovered in Shouhsien what may be the first inscribed bronze tablets ever found over 2,000 years old. All tablets or original written records of such an age found up to now have been made of bamboo or wood. None have carried more than a few dozen characters written usually in coloured inks or paints. The Shouhsien tablets are each inscribed with over 150 characters inlaid with gold.
The team has also found a number of bronze vessels in Funan County and in Tungkuanshan. They include tsun (wine vessels), ku (wine-cups), chueh (libation cups), and li (cooking vessels with three hollow legs) of the early West Chou dynasty (12th to 8th century B.C.) and ting (three-legged cooking vessels), hsien (steamers) and tsun with decorations of the period of the Spring and Autumn Annals. The two tsun, the one decorated in relief with dragons and tigers and the other with ogre masks, are especially noteworthy for their fine workmanship and the lively imagination shown in the treatment of the animals and ogre masks. This collection is of considerable importance to the study of Chinese bronzes.
Neolithic remains have also been found at fifty sites in Shouhsien and also in Wuhu County.