Directory Of Year 1958, Issue 1
Sino-Korean Co-operation
Year:

1958

Issue

:1
Column:

CHINA AND THE WORLD
Author:
Release Date:

1958-03-04
Page:

17
Full Text: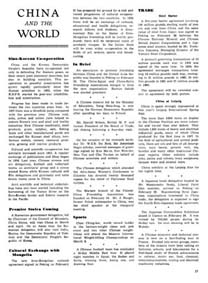 China and the Korean Democratic People's Republic have co-operated not only in defending Far Eastern peace, as their recent joint statement describes, but also in building socialism. This cooperation in peaceful construction has grown rapidly particularly since the Korean armistice in 1953, when the K.D.P.R. started its post-war rehabilitation and construction.
Progress has been made in trade between the two countries since then. In 1957 there was a threefold jump compared with the previous year. Chinese coal, coke, cotton and cotton yarn helped to restore Korea's iron and steel and textile industries. Now Chinese machinery, steel products, grain, sulphur, salt, fishing boats and other manufactured goods are exchanged for Korean steel alloys, non-ferrous metals, cement, chemical products, ginseng and marine products.
Cultural and scientific co-operation has similarly increased since 1955. A regular exchange of publications and films began in 1956. Last year, Chinese cinema and art delegations, football and volleyball teams, an architects' group and a circus visited Korea while Korean cultural and film delegations and gymnastic and table tennis teams came to China.
Joint scientific and technical undertakings have also been started including the harnessing of the Tumen River on the Sino-Korean border and fishery research in the Pacific.