Directory Of Year 1958, Issue 1
C.P.V. Withdrawal
Year:

1958

Issue

:1
Column:

CHINESE PRESS OPINION
Author:
Release Date:

1958-03-04
Page:

18,19
Full Text:
"An Important Step Towards Far Eastern Peace" (Renmin Ribao); "A Great Contribution to Consolidation of Peace in the Far East" (Guangming Ribao); "We Do Our Bit; Now It's Up to the U.S." (Zhongguo Qingnian Bao); "Time for Washington to Make a Clear-cut Move" (Da Gong Bao)... so run Chinese editorial headlines on the recent joint Chinese-Korean statement and the forthcoming withdrawal of the C.P.V. from Korea.
Renmin Ribao (February 20) described the Korean-Chinese decision as "an important initiative to break the present U.S.-made deadlock in Korea, effect a peaceful settlement of the Korean question and relax tension in the Far East."
Da Gong Bao (February 21) stressed that "the decision to withdraw the C.P.V. from Korea again opens up an avenue for peaceful settlement of the Korean question. It is the latest in a series of steps taken by the socialist countries to relax international tension and preserve world peace."
At the same time, the Chinese papers warned the United States and the Syngman Rhee clique not to mistake the C.P.V. withdrawal as a sign of weakness. Guangming Ribao (February 21) had this to say, "The Chinese and Korean people proved themselves invincible during the Korean War. Now when the peace forces of the world are more powerful than ever, any military adventure undertaken by the American imperialists will fail." Zhongguo Qingnian Bao stressed that, as in the past, so in the future, U.S. aggression against the Korean Democratic People's Republic would not be ignored by the Chinese people.
Washington's repetitious insistence that the Korean question be settled through the United Nations was just a pretext to bar negotiations, Renmin Ribao charged editorially on February 22. "The United Nations cannot be expected to deal fairly with this question for, as a result of the machinations of the United States, it was itself a belligerent in the Korean War. Under present circumstances when the K.D.P.R. is not represented at the U.N., the People's Republic of China is illegally deprived of its legitimate rights there and the Soviet Union and many Asian countries have raised objections to them, the U.N. resolutions on the Korean question are on every count illegal and therefore null and void."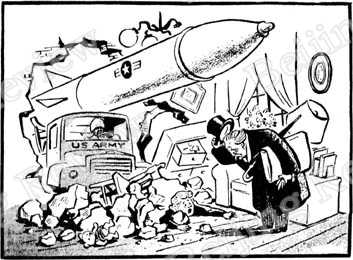 ON THE AGREEMENT TO ESTABLISH U.S. MISSILE BASES IN BRITAINMacmillan: "Allow me to congratulate you, Madame. Your security is assured!"Mi Ku in Shanghai "Jiefang Ribao"
"The Korean question," it concluded, "must be settled by the Koreans themselves without any interference from outside. This should be the fundamental principle for settlement of this question. It is the duty of all countries concerned to ensure that there is no outside meddling in Korean affairs. And the very first step to take is to withdraw all foreign forces from Korea."