Directory Of Year 1958, Issue 1
Hands Off Indonesia!
Year:

1958

Issue

:1
Column:

CHINESE PRESS OPINION
Author:
Release Date:

1958-03-04
Page:

18,19
Full Text: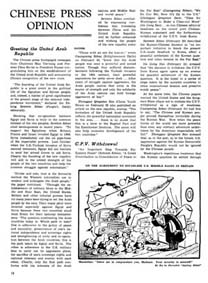 "United States imperialism is the hand behind the scenes," wrote Da Gong Bao on February 26 commenting on the rebellion in Central Sumatra.
"In the past two years." (he paper recalled, "the imperialists have again and again egged on the separatists there to try to subvert this young republic, but every scheme they've tried has failed. Last December, when Indonesia launched a nation-wide campaign to recover West Irian, the imperialists began to feel ill at ease, that's why they have now encouraged the separatists to stage an open rebellion.
"In the past Washington pretended to be 'neutral' in Indonesia's fight against colonialism. Now, at last, it has dropped its mask. When the rebels set up their 'government' in Central Sumatra and sent their 'ultimatum' to the Central Government in Djakarta, Mr. Dulles immediately showed up at their side by declaring that President Sukarno's 'guided democracy' was a 'deviation' from the Indonesian Constitution."
But why is Washington giving its support to the rebels? Da Gong Bao answers: "This is mainly because the United States hopes to overthrow the legitimate government of Indonesia, to drag it into -the SEATO bloc and eventually turn it into an American military base. And this explains why SEATO is pouring ammunition into the rebel centres in Central Sumatra. When President Sukarno charged on February 24 that a certain foreign power was attempting to drag Indonesia or part of it into a certain bloc, it's easy to see who he meant."