Directory Of Year 1959, Issue 27
Studying While Building the "Mountain Canal"
Year:

1959

Issue

:27
Column:

ARTICLES
Author:

LIANG NIEN
Release Date:

1959-07-07
Page:

16,17
Full Text: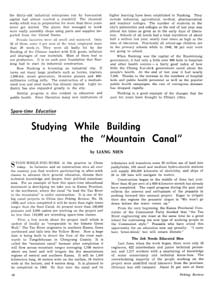 STUDY-WHILE-YOU-WORK is the practice in China today. In factories and on construction sites all over the country you find workers participating in after-work classes to advance their general education...
Please login first!