Directory Of Year 2007, Issue 52
Culture Hunger
Year:

2007

Issue

:52
Column:

WEEKLY WATCH
Author:
Release Date:

2007-12-27
Page:

4-9
Full Text: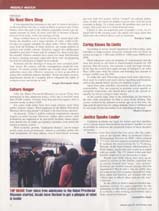 After the Hubei Provincial Museum in central China first announced its free admission policy, every day it received more than 10,000 visitors, 10 times more than previous figures. Now it remains steady at about 5,000.
For years, high ticket fares have kept citizens away from public cultural venues. What happened to the Hubei Provincial Museum shows that people's demand is far from being satisfied.
At present, China's public cultural institutions operate largely on ticket income. However, unlike other sectors, such institutions are supposed to be non-profit facilities whose operation should rely on stable government subsidies, even under the market economy system.
With economic growth, "inadequate finance" can no longer justify some local governments' refusal to subsidize public cultural institutions. In many places, even if local fiscal revenues run very well, few money will be "wasted" on cultural institutions, as they are believed unable to prove how well the local economy is doing. To a large extent, the problem does not lie in money, but in the lack of a stable financial basis.
Culture is also an important part of people's lives, so it's hoped that in the coming years, the public can enjoy more free admission into cultural places such as museums.
Workers' Daily