Directory Of Year 2007, Issue 52
Caring Knows No Limits
Year:

2007

Issue

:52
Column:

WEEKLY WATCH
Author:
Release Date:

2007-12-27
Page:

4-9
Full Text: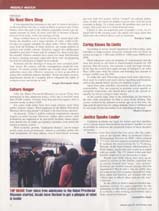 According to newly issued regulations on fellowships, state subsidies to impoverished university students will rise from an annual average of 1,500 yuan ($200) to 3,000 yuan ($400) as of 2008.
When education costs are jumping, it's encouraging that the state has raised its aid fund to impoverished students by 100 percent. But obviously, this amount is still not high enough, given that the current per-capita income of farmers is no more than 3,000 yuan while the tuition and boarding fees amount to at least 10,000 yuan ($1,350).
To make the state fellowship system work more effectively, there must be explicit and rigid criteria regarding qualifications, such as the annual family income for students to get it.
Apart from state subsidies, universities should take on more responsibility. They are expected to promote social equality as non-profit institutions, but should never add to the current inequality by always trying to make money.
At the current stage, most of the fellowships are provided by the state while universities do little to assist in the funding. This system worked in the planned economy age, as at that time, the state paid all school fees for college students. Now it's different and it's necessary for the universities to do something for the poor.
Modern Express