Directory Of Year 2007, Issue 52
Justice Speaks Louder
Year:

2007

Issue

:52
Column:

WEEKLY WATCH
Author:
Release Date:

2007-12-27
Page:

4-9
Full Text:
Coalmine accidents are tragic for miners and their families, so it is always hoped that incidents are properly handled as soon as possible to minimize the emotional impact of these disasters on society.
However, it has been found that two years after the explosion at the Qitaihe Mine in northeast China's Heilongjiang Province in 2005, which claimed 171 lives, the investigation remained unfinished. If without the intervention by Li Yizhong, Minister of the State General Administration of Work Safety, maybe this case would have ended with no results. The 171 miners killed and their families might never see that justice is done.
People can't help asking that since an incident as serious as the Qitaihe explosion was so poorly treated, how many "less serious" incidents are kicked around among relevant departments? Maybe that's why the public does not want to use laws to protect themselves when their rights and interests are violated and why villains dare to offend others and also the state' s interests.
In the effort to build a human-oriented harmonious society, it's quite important for the authorities to take these incidents seriously, so as to build a safer working environment and a fairer social environment.
Guangzhou Daily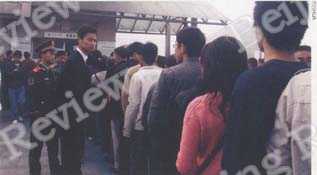 TOP DRAW: Ever since free admission to the Hubei Provincial Museum started, locals have flocked to get a glimpse at what is inside