Directory Of Year 2007, Issue 52
Most-wanted Couple Sentenced to Death
Year:

2007

Issue

:52
Column:

WEEKLY WATCH
Author:
Release Date:

2007-12-27
Page:

4-9
Full Text: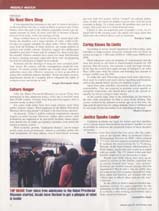 China's most-wanted couple has been sentenced to death in southwest China's Guizhou Province for forcing 23 girls, mostly primary and middle school students, into prostitution.
Zhao Qingmei, a former provisional teacher at Xinfa Town Primary School, and her husband Chi Yao, also a teacher who taught at Xinfa Town Middle School in Weining County, were found guilty of procuring 22 girls from the two schools, including six under the age of 14, and a village girl. The offences took place from March to June 2006 in Liupanshui City and Nayong County. Zhao was sentenced to death and Chi was given a suspended death sentence, according to the local court.
The couple were arrested on August 10 in Panzhihua City, Sichuan Province, after the Ministry of Public Security issued a Class-A arrest warrant and offered a 100,000-yuan ($13,500) reward for them.