Directory Of Year 2007, Issue 52
First Oil Reserve Starts Operation
Year:

2007

Issue

:52
Column:

WEEKLY WATCH
Author:
Release Date:

2007-12-27
Page:

4-9
Full Text: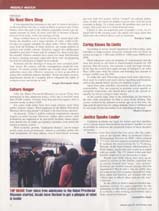 China said its first national oil reserve base was filled with crude oil on December 19. Located in eastern Zhejiang Province, the base has a planned storage space of 5.2 million cubic meters, said the National Development and Reform Commission (NDRC), China's top economic planning agency.
The commission said the base, built by China's largest oil refiner Sinopec, was accepted after a yearlong trial operation.
China started a state strategic oil reserve base program in 2004 as a way to offset oil supply risks and reduce the impact of fluctuating energy prices worldwide on China' s domestic market for refined oil. The other three oil reserve bases, still under construction, are expected to be in use later this year or next year.