Directory Of Year 2007, Issue 52
Stronger Oil Tanker Fleet
Year:

2007

Issue

:52
Column:

WEEKLY WATCH
Author:
Release Date:

2007-12-27
Page:

4-9
Full Text: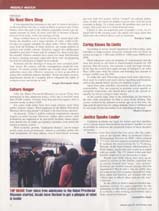 China's oil tanker fleet is being encouraged to grow faster to shoulder half of the transportation of imported oil by 2010, experts have said.
Recent studies by the Institute of Comprehensive Transportation affiliated to NDRC showed that Chinese-operated tankers should transport at least 60 percent of imported oil to ensure supplies. But domestic tankers last year shipped only 16 percent of oil imported by China.
The country imports more than 130 million tons of oil each year, about 90 percent of which is transported by ship. It has made China, the world's second largest importer after the United States, vulnerable to transportation costs and other uncertainties.