Directory Of Year 2007, Issue 52
Testing Partnership
Year:

2007

Issue

:52
Column:

NATION
Author:

CORRIE DOSH
Release Date:

2007-12-27
Page:

22
Full Text: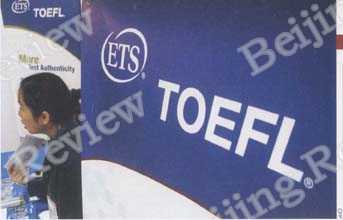 ETS and New Oriental sign a deal to help Chinese students prepare for the TOEFL
A leading worldwide provider of educational testing and China's largest private educational services provider are teaming up to offer Chinese students better access to preparation materials for the Test of English as a Foreign Language (TOEFL). Educational Testing Service (ETS), the creator and administrator of the TOEFL, in November announced that Beijing's New Oriental Education and Technology Group Inc. had been authorized to provide and sell online practice materials to Chinese students.
"We've had a long history in China, and had always been partnered with organizations like the NEEA [National Education Examination Authority], the government assessment organization. As the China market segment for educational assessment has grown, our need to reevaluate the partnerships we have in China has also changed," said Kurt Landgraf, President and CEO of the New Jersey-based ETS. "New Oriental school has had significant growth in the last few years and has become a major player in the educational segment."
After "lengthy discussions" on New Oriental's capabilities and market reach, the school was authorized to use the ETS package of TOEFL Practice Online (TPO) in training classes for students and to sell the TPO directly to students. ETS will continue to offer the TPO through its own website and through its distribution partners in China, but New Oriental becomes the first and only Chinese organization authorized to sell the TPO on its own.
"We were looking for a viable, high-quality, high-integrity partner," Landgraf told Beijing Review.
The TPO has been available to prospective students for years, and prepares them on how the test will look and feel, as well as the type of questions they would be asked during the examination. Practice materials like these are essential to test-takers, he said, as they help to reduce mistakes due to nervousness and anxiety. Students feel better about their scores, and schools are assured that the tests are as an accurate measurement of students' abilities as possible. A free sample of the TPO is available on the ETS website (www.ets.org).
---
"We took a long time deciding on New Oriental, but they're the right partner and represent the kind of company we're interested in being associated with."
- Kurt Landgraf, President and CEO of the New Jersey-based Educational Testing Services
---
"The assessment experience is never a happy one for anyone, but what we try to do is [to] minimize the anxiety involved," Landgraf said.
The TOEFL has been available to Chinese students since 1978, and while this is the first agreement between ETS and New Oriental, it is not their first interaction. ETS in 2001 sued the school for copyright violations after students there were given undisclosed test questions ahead of their exams. Now, the school's reputation for excellence has prompted ETS to cement a partnership, Landgraf said.
"At ETS, we're very careful who we partner with," he said, "because our brand equity rides with our new partners. We took a long time deciding on New Oriental, but they're the right partner and represent the kind of company we're interested in being associated with."
Landgraf, former Chairman of Dupont's operations in Europe, launched a worldwide initiative to identify local partners in key markets when he took the reins of ETS nearly one year ago.
"Any American company that feels it can do a good job without a local, high-quality partner in a country that is run by in-country nationals, is making a huge mistake," he said. "My policy at ETS has always been that when we enter significant, new, non-domestic U.S. markets, we always partner with in-country organizations that really understand the marketplace."
ETS is open to additional partnerships and agreements with other organizations in China as well as expanded agreements with New Oriental, as developments dictate, he said.
"Asia in general and China in particular represent the largest segment from which we get English-language learning assessment candidates. Those are students that want to come to American or English-speaking universities. It's a very large and important segment of our market and one that we've been involved with for a very long period of time. TOEFL is the gold standard," he said.
The TOEFL test is used by more than 6,000 universities around the world to measure the English skills of prospective students, Landgraf said, and as the United States begins to relax the visa restrictions put in place over the past seven years due to security concerns, demand for the test and for testing materials has increased.
"We're very pleased that we've formed this partnership and we look forward to many years of cooperation," he said.
(Reporting from New York)