Directory Of Year 2007, Issue 52
ECONOMIC FEATORES IN 2007
Year:

2007

Issue

:52
Column:

BUSINESS
Author:

LAN XINZHEN
Release Date:

2007-12-27
Page:

30-33
Full Text:
The year 2007 saw the Chinese economy growing as fast as before and the opening of markets widened and accelerated. However, inflationary pressure has clouded the economy since mid-year.
Fast economic growth
Fast economic growth is the keystone of the Chinese economy. According to statistics from the National Bureau of Statistics (NBS), the total GDP in the first three quarters reached 16.6 trillion yuan ($2.24 trillion), up 11.5 percent year on year. This was 0.7 percentage points faster than the growth rate in the same period last year.
A report from the Center for China in the World Economy of Tsinghua University published in December forecasts that the GDP will grow 11.8 percent in 2007.
Since 2003, the country has maintained two-digit growth rate.
Judging by the NBS statistics, investment remains the major driver of the robust economy and contributed 41.6 percent to economic growth. From January to November, the fixed assets investment in urban areas surpassed 10.06 trillion yuan ($1.36 trillion), growing 26.8 percent year on year. Among this figure, investment in the property sector stood at 2.16 trillion yuan ($292 billion), up 31.8 percent year on year.
Consumption has also started to contribute more to the economy. Total retail sales of consumer goods amounted to 8.02 trillion yuan ($1.08 trillion), surging 16.4 percent. In the first three quarters, consumption contributed 37 percent to economic growth, and the figure was 4 percentage points higher than that in 2005.
The function of imports and exports changed slightly in a driver of economic growth. As the nation's macro-control policies took effect, the growth rate of exports began to slow, while the speed of imports picked up, leading to a narrowing in the trade surplus. Figures from General Administration of Customs show that the total trade surplus in the first 11 months surmounted $238.1 billion, growing 52.2 percent over the same period of 2006. This was 6.8 percentage points slower than that in the first 10 months.
Judging by current economic development, in the near future, export speed will continue to slow while consumption and investment will maintain robust growth.
Financial market opens wider
Foreign financial institutions commenced local incorporation efforts in 2007.
In April, four foreign bank branches were locally incorporated in China with Shanghai as their base of operations. The first four banks were HSBC (China), Standard Chartered (China), Bank of East Asia (China) and Citibank (China).
To date, foreign banks have set up 364 head offices or branches in 25 mainland cities, 95 more than that in the beginning of this year.
The central bank's Shanghai headquarters published a report showing that foreign banks in Shanghai reaped 3.847 billion yuan ($520 million) in the first three quarters, up 64.54 percent year on year with a market share of 14.43 percent.
Besides the cities, the rural financial market, long ignored by financial institutions, caught increasing attention from foreign financial institutions. In August, HSBC (China) was allowed to set up a branch in Zengdu District in Suizhou City in Hubei Province and became the first foreign bank entering the rural market.
While large-scale foreign banks entered the mainland, Chinese banks were increasingly expanding their presence in the overseas market. In the first half of 2007, Industrial and Commercial Bank of China and China Merchants Bank sent applications for establishing branches in New York. In the middle of November, the U.S. Federal Reserve approved the latter to set up a New York branch, making it the first Chinese bank approved for the United States financial market.
The opening of the capital market was also on the fast track. The Chinese Government devised a qualified foreign institutional investor (QFII) scheme, which allowed QFIIs to invest a restricted amount of money in the mainland stock market. The QFII quota was raised to $30 billion at the end of this year. Consensus was also reached at the Third China-U.S. Strategic Economic Dialogue (December 12-13) on the allowance of qualified foreign-invested companies, including banks, to issue stocks in the mainland market, on the allowance of qualified listed companies to issue yuan-denominated corporate bonds, and on the allowance of qualified locally incorporated foreign banks to issue yuan-denominated financial bonds.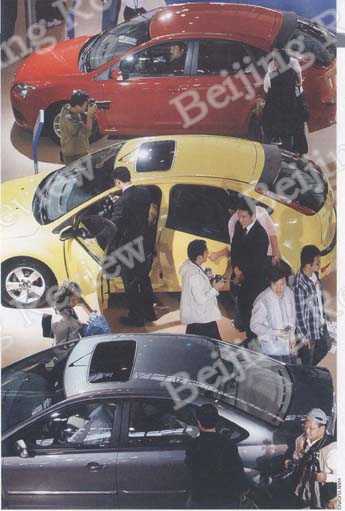 IN THE DRIVER'S SEAT: Consumption, as one of the three major drivers of the economy, contributed to over one third of China's economic growth in 2007, its biggest proportion ever
With the opening of the financial market, the Chinese currency appreciated significantly. On December 14, the exchange rate of yuan against the U.S. dollar was 7.3589. The yuan has appreciated 11.08 percent against the U.S. dollar since China reformed its currency on July 21,2005.
Runaway inflation
Pork and edible oil prices spiked. The consumer price index (CPI) growth kept rising from 3.3 percent in March to a decade high of 6.9 percent in November, hovering above the government-set warning mark of 3 percent for nine months.
Some experts from the National Development and Reform Commission (NDRC) and NBS repeated that the recent rises have been partial and temporary, and that China is not saddled with nationwide inflation. But others claim that China has entered a period of an overall inflation, and are increasingly concerned that the increase in food prices will spill over into other sectors, especially when the CPI increase was coupled with the dramatic growth of the producer price index (PPI), which increased 4.8 percent year on year in November, the highest level in the past two years.
The annual Central Economic Work Conference held on December 3-5 stated that next year's top macroeconomic pri- orities would be preventing the economy from overheating and keeping the current partial price rises from evolving into "evident inflation."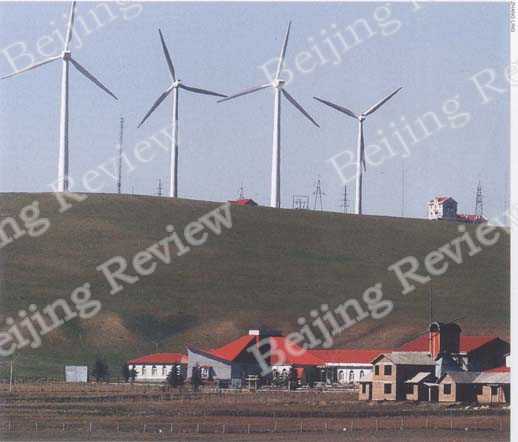 BUILDING THE FUTURE: China increasinlgy encourages the use of environmentally friendly energy sources such as wind power to protect the environment

Effective macro control
Statistics from the central bank show that China's M2, a broad measure of money supply that covers cash in circulation and all deposits, has been higher than 18 percent year on year for five consecutive months, contributing to an excessive money supply. The narrow money supply (Ml), an indicator reflecting liquidity and covering cash in circulation and current account deposits, has also risen dramatically. This rise reflects the fact that bank savings are shifting from time accounts to current accounts and that growth of liquidity has accelerated, although the inclination to save picked up slightly after the most recent interest rate hikes.
Huge foreign exchange reserves due to the expanding trade surplus and excessive credit growth spurred by an excessive money supply in the banking sector have created excess liquidity, resulting into negative interest rates, excessive investment, an overheated economy and worries of serious inflation.
The central bank engaged in a "moderately tight" monetary policy all year in an effort to check excess liquidity. On December 8, the central bank announced its 10th reserve requirement ratio increase of 2007, pushing it to a record high 14.5 percent. The 10 rises of reserve requirement ratio have locked in a total of 2 trillion yuan ($270 billion). Besides these moves, the central bank raised interest rates six times this year, something rarely seen in the past.
Furthermore, the central bank had issued bills worth 3.93 trillion yuan ($532 billion) by December 12, with six issuances of over 100 billion yuan ($13.5 billion).
Emissions cuts
China's energy consumption per unit of GDP dropped 3 percent year on year in the first three quarters of 2007, according to NDRC statistics, marking a turning point of China's campaign of cutting energy consumption and pollutant emissions.
China has vowed to cut the energy consumption used to generate per unit of GDP by 20 percent and major pollutants emissions by 10 percent between 2006 and 2010. The first drop in the per unit energy consumption offered hope for further slashing energy consumption.
Measures the government adopted this year to cut emissions have already taken effect.
From January to September, China's daily sewage handling capacity in cities went up 9 million tons.
During the same period, 253 small coal-fired generating units, with a combined capacity of 9.03 million kilowatts, were shut down. Operations in more than 500 paper mills were suspended, and nearly 400 paper mills were asked to improve their wastewater processing facilities.
By the end of October, the State Environmental Protection Administration (SEPA) had inspected more than 860,000 enterprises nationwide and suspended operations in more than 1,200.
Furthermore, the government abolished tax rebates on 553 exported commodities that harm the environment and consume large amounts of energy and resources as of July 1.
Input of investment is an important guarantee of the effectiveness of this campaign. NDRC statistics show that by the end of November, a total of 21.3 billion yuan ($2.88 billion) has been earmarked for the national energy-saving and emissions-cutting campaign, of which 9 billion yuan ($1.22 billion) was allocated for major projects of energy saving as well as building up related administration capabilities, 12 times more than last year's amount.