Directory Of Year 2007, Issue 52
Rescue the Old
Year:

2007

Issue

:52
Column:

BUSINESS
Author:

LAN XINZHEN
Release Date:

2007-12-27
Page:

36,37
Full Text:
PRESERVING TRADITION: Tianjin-based "Go Believe" is also a shining pearl among Chinese time-honored brands
Traditional indigenous brands nosedived from 10,000 in 1950 to 430 in October 2006, highlighting the urgency to act
Wang Jiahuai, General Manager of Beijing Wangzhihe Food Group, a seasonings producer, is bound to have a tight schedule in 2008. Having just rid himself of a lawsuit, Wang dares not drag his feet trying to evade more troubles. He is about to set out on a tour in order to register his trademark "Wangzhihe" in over 30 countries and regions. The time and energy wasted on the lawsuit is actually worthwhile for Wang - it awakened him to the importance of protecting his brand by getting it officially registered.
Wang's troubles started in 2006 when his group was attempting to break into the German market. To his great surprise, the 330-year-old Chinese brand "Wangzhihe" had been hijacked by the Germany-based Okai Import Export GmbH.
As one of China's time-honored brands, Wangzhihe is endowed with intangible assets worth of over 100 million yuan ($13.5 million). Unfortunately, Wangzhihe products could not be sold in Germany because of the preemptive trademark registration by its German counterpart. In August 2006, the cornered Wangzhihe Food Group filed a lawsuit at the Munich court of Germany to defend its rights. Finally and fortunately, on November 14, the court ruled to revoke the registered trademark of Okai.
"We are not alone in such cases," Wang said. "A handful of renowned Chinese brands are also suffering infringements."
Similar infringement cases go back as far as the 1990s. According to incomplete data, over 250 Chinese trademarks have been hijacked in Australia, more than 200 in Japan and over 50 in India. Enterprises in the EU, Latin America and Southeast Asia are also catching up. In the last 10 years, trademarks of over 2,000 export commodities have become victims of such illegal acts, rippling through many industries such as cosmetics, drinks, household appliances, garments and culture. Most of the affected are time-honored Chinese brands.
"With Chinese brands gaining a foothold in the global market, overseas competitors are vying for these brands to sharpen their competitive edge," said Huang Guoxiong, professor at the Renmin University of China and Deputy Director of the Chinese Society of Commercial Economy.
On the other hand, many Chinese enterprises are poorly armed with the awareness to safeguard their trademarks due to fledgling intellectual property right protection mechanisms. Once preempted, they have to buy back their trademarks or rename their products, both of which can lead to substantial costs.
A painful loss
Feng Yibin, Director of the Association of Chinese Trademarks, pointed to preemptive trademark registrations as roadblocks for Chinese enterprises on their paths to go global. Worse still, the brand robbers even blackmail their Chinese counterparts for high trademark transfer fees. Feng has in recent years dealt with many trademark disputes on behalf of domestic enterprises.
Statistics of the State Administration for Industry and Commerce show that old and famous brands are losing intangible assets worth of approximately 1 billion yuan ($135.1 million) annually.
In 1950, China boasted over 10,000 time-honored brands. By 1990, the number had sharply shrunk to 1,600. In October 2006, there were a measly 430 still surviving, according to the Ministry of Commerce.
Many domestic enterprises only legalize their brands in countries where they export, heedless of long-term development. When they set their sights on new markets, they find their brand names have already fallen into the pocket of others, noted Wang Hongqing, attorney of Wangzhihe case. "To recover the trademark, the Wangzhihe Food Group paid 500,000 yuan ($67,568)."
A thorny path
To everyone's surprise, most enterprises that have been infringed chose to settle in private, instead of following Wangzhihe's example and filing a lawsuit.
Financial cost is a major disincentive to taking legal action. Present time-honored brands are mostly rooted in the catering industry, with little profit margin. Originally growing from snack bars, these enterprises have begun seeking expansion since 1978 when the reform and opening-up policy was adopted. "What actually constrains them from bringing a lawsuit is the concern over huge costs," Wang Hongqing said. "It's unaffordable for ordinary enterprises."
According to Liu Manlai, Deputy Director of Beijing Traditional Brands Association, only 70 percent of China's time-honored brands can make ends meet. Hovering at the brink of bankruptcy are another 20 percent. Only 10 percent have been able to scale up their enterprises. As a result, they have no other choice but to bend to the financial pressure arising from overseas lawsuits.
With an annual turnover approaching 600 million yuan ($81.1 million), the Wangzhihe Food Group can be considered one of the most well-performing among the remaining old brands. Notwithstanding, the group only yields an annual profit of less than 15 million yuan ($2 million).
Hence, to lower the costs of legal fights overseas has become a pressing task. "It costs little to maintain a trademark," Liu said. "However, it can swell once the registration is taken over. Worse still, the brand rights are unavailable during the lawsuit, which may span two to three years."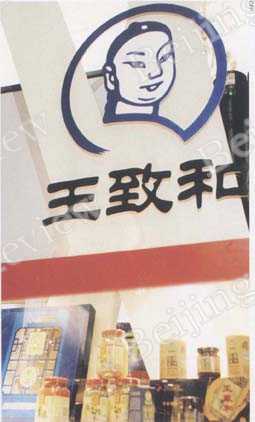 LONG LASTING: Wangzhihe seasonings stand out at the Beijing Famous-Brand Products Exhibition
A helping hand
"Enterprises themselves are supposed to be held responsible for the protection of their trademarks, some of which have merged with the traditional culture. But given their financial difficulties, it's unrealistic that they shoulder the burden alone," said Wang Hongqing. "We should come up with an independent protection mechanism to organize the trademark registration process so as to protect these intangible assets," Wang said.
Support from the society and the government can be uti- lized and can assist enterprises that are incapable of launching global registration campaigns. "If this happens, more financial and personnel resources can be saved for production," said Wang Jiahuai.
Relevant government departments and industrial associations are also obliged to serve the interests of domestic enterprises. For example, blessed with convenient access to broad information, they can sound the alarm when they discover preemptive registrations. They can also publicize successful experiences some companies have had in defending their intellectual property rights overseas, and they should try to provide interpreters and lawyers for those companies involved in overseas lawsuits.
As embodiments of the Chinese traditional culture, these time-honored brands deserve adequate preservation and promotion, added Wang Jiahuai.
At present, the Ministry of Commerce is brewing a pre-warning system for intellectual property rights in an effort to rescue the brands under threat. Meanwhile, a campaign to revitalize the old brands is also on the way. Namely, 1,000 Chinese time-honored brands, with their own intellectual property rights, will be confirmed in three years.