Directory Of Year 2007, Issue 52
Company Introduction
Year:

2007

Issue

:52
Column:

OTHERS
Author:
Release Date:

2007-12-27
Page:

29
Full Text: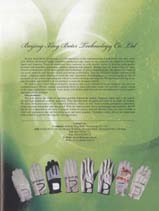 Beijing Xing Boter Technology Co. Ltd
Beijing Xing Boter Technology Co. Ltd specializes in the manufacturing of golf gloves and other products. Rolled out from a tightly controlled production line, many of our products are exported to Europe, Japan and America. Years of experience have endowed us with reliable ability to develop good-quality products and undertake processing supplied materials and samples. Besides this, we boast a team of experienced professionals in the management and technology of glove manufacturing. Our gloves are made of top-grade materials and through unique processing technologies. They are delicately knitted, catering to all shapes of human hands. Bearing in mind the vital importance of management in determining the quality of products, we have been tightening our efforts to further develop and improve. We have been striving to ensure the safety and reliability of our products to meet the stringent criteria.
We hold a firm belief that good-quality products and sound reputation of our company are our core competitiveness. We are making unremitting efforts to meet individual needs. Our growth is deeply rooted in the close connection with you. Your advice will further push forward our development of more creative and high-quality products.
Our products:
Our golf gloves are made of imported genuine Indonesian leather, Japanese super-fiber cloth materials and high-technical synthetic materials. They are delicately designed and cater to all kinds of weather. We have showcased many of our featured products, which are soft, wear-resistant, perspiration-absorbent, shake-resistant, breathable and rain-proof. With the improvement of our technologies and materials, the PU gloves are comparable to the ones of genuine leather in quality and feel. Besides, they are more variable in color and appearance and are becoming more and more popular. Nowadays, many gloves are integrating both materials to perfect their quality and appearance.
Contact us:
Company: Beijing Xing Boter Technology Co. Ltd
Add: Room B512, No.24, Minghu Building, Huangsi Street, Xicheng District, Beijing
Tel: 8610-62362715
Fax: 8610-62362715
E-Mail: xboter@xboter.com.cn
Web: www.xboter.com.cn