Directory Of Year 2007, Issue 52
Experience Luxury
Year:

2007

Issue

:52
Column:

OTHERS
Author:

HU YUE
Release Date:

2007-12-27
Page:

38
Full Text: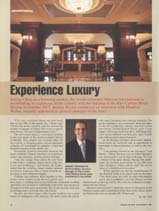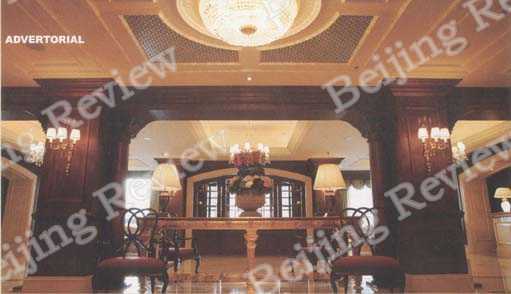 Seeing China as a booming market, the world-renowned Marriott International is accelerating its expansion in the country with the opening of the Ritz-Carlton Hotel Beijing in October 2007. Beijing Review conducted an interview with Manfred Weber, recently appointed as general manager of the hotel
"I'm very confident about our new hotel here in the CBD of the capital city," Weber said. "Given the prime location and the increasing number of people in China who want to experience luxury, I do see a bright prospect in it."
The new hotel enjoys a convenient location in the very heart of the central business district of Beijing. The complex also includes three office towers, a shopping plaza and an apartment complex, all surrounded by gardens - a rare and beautiful amenity in the central city.
Principally styled in European classical, the hotel combines Chinese elements in its pictures, statues and paintings, said the general manager.
"And the unique thing about the new hotel is that it has a wedding chapel which is the first of its kind in Beijing," said Weber. He further added that the wedding chapel renders tailored services to customers with a variety of needs depending on their different budgets.
Couples can celebrate their nuptials at this serene venue nestled beside the rose garden and then enjoy a wedding feast in the ballroom. Dedicated wedding specialists are on hand to collaborate with bride and groom on all aspects of their most memorable day. A private hair salon and grooming center crown the day with luxury.
Besides, the hotel enjoys other leisure facilities. As a quiet haven of indulgence with amenity, the hotel spoils the guests with many luxurious and relaxing therapies. For guests needing to stay connected, there are state-of-the-art technology options and flat screen televisions. Uninterrupted luxury goes a step higher with a spa on the top floor, including treatment rooms outfitted with balconies and a health club with an indoor heated lap pool.
As the Beijing Olympics draws near, international hotels are endowed with an opportunity to participate in the excitement, as well as the benefits.
"I am looking forward to the Olympics," said Weber. "When the host city of 2008 Olympics was announced, I was living in Beijing. So I am a witness of the great changes Beijing has undergone. So we have good reason to say that even after Olympics, China will do well. We see no signs of a slowdown or recession."
Weber pointed out that the establishment of the Marriott brand is an urgent task for his team. "Our hotel aims not only to cope with market needs, but to establish a new benchmark on what luxury hotels in the city can be. We want our customers to experience the true luxury."
Marriott International is optimistic about its prospects in the Chinese market and is planning to build three more luxury hotels in China in the next six months, Mr. Weber said.
BRIGHT PROSPECTS: Manfred Weber, General Manager of Ritz-Carlton Hotel Beijing shows great confidence in the market