Directory Of Year 2007, Issue 52
HOTEL INFORMATION
Year:

2007

Issue

:52
Column:

OTHERS
Author:
Release Date:

2007-12-27
Page:

43
Full Text: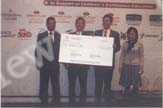 Warm Love in Chilly Winter
On December 6, the Beijing Pacific Century Place hosted its fifth annual Christmas tree lighting ceremony. At the ceremony, the charity mascot "Huggie" was revealed for the first time and President of Beijing Light and Love School, Shi Qinghua, received an award as "Goodwill Ambassador."
"This is the first step for spreading love and embracing everyone surrounding us. We are calling on the public to join in the charity cause to warm others' hearts," said Sun Guanghua, General Manager of Beijing Pacific Century Place.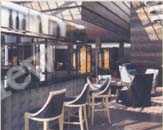 Kempinski Hotel Beijing Lufthansa Center
One of the city's best meeting places takes on a new look. Modernly designed and with a comfortable environment, our Rendez-vous Bar & Lounge is an ideal place to meet your business partners or have a drink after a long day. Who says that business and pleasure do not mix? Check it out from December onwards.
Open from 8 a.m. to 1 a.m.
Marco Polo Parkside, Beijing
Marco Polo Parkside, Beijing management presented the grand Christmas hamper to the Third Deaf School of Beijing on International Day of Disabled Persons on December 3. This gesture was meant to share our love and Christmas happiness to these special children during this meaningful festive moment.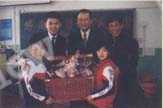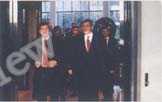 The Regent Beijing
The Regent Beijing was honored to host a VIP delegation led by Jose Manuel Barroso, President of the European Commission and Jose Socrates, Prime Minister of Portugal during their visit to Beijing for the 10th EU-China Annual Summit on November 28.
Mandarin Oriental, Beijing
Many may not be aware of the pre-opening process of a hotel and the blood, sweat and tears that are involved in helping to create a magnificent product. To ensure endurance, good spirits and good health, Mr. Pierre Barthes, General Manager, leads the executive committee in its daily yoga regimen.
Gloria Plaza Hotel, Beijing
When the winter winds begin to blow you know it' s time to treat yourself to Sampan hot pot. Our chefs have created his special soup together with a quality selection of fresh seafood, meats and veggies to warm you up, right to the heart!

Lunch: 11:30 a.m. to 3:00 p.m.
Dinner: 5:30 p.m. to 10:00 p.m.
From Dec 1, 2007 to January 31, 2008
For Reservations call (8610) 6515 8855 ext. 2155
For children 188 yuan net (12 years and under)
Holiday Inn Downtown Shanghai
Mr. Dominic Brennan, General Manager of Holiday Inn Downtown Shanghai, warmly greeted the famous movie director Mr. Zhang Yuan, who recently traveled to Shanghai for his personal photo exhibition.

2007 the Third "Project Hope" Charity Cousin Contest of Intercontinental Hotels Group, Beijing
Dedicated to charity works, the Intercontinental Hotels Group organized its third charity cousin contest in cooperation with China Youth Development Foundation. Over 30 talented chefs from our group's hotels in Beijing participated in the contest as a contribution to "Project Hope."
Four Seasons Club
Situated at Star River of Chaoyang Beilu, Four Seasons Club is 25 minutes drive from the Beijing International Airport and 10 minutes drive from the central business district. Covering an area of 14,000 square meters, the club presents fresh air, broad views and a quiet environment.
With green grass and a beautiful landscape, we offer the high-quality services of a five-star hotel and recreational and sporting facilities, such as swimming pools, saunas, tennis, badminton and table tennis.